December 2021 Newsletter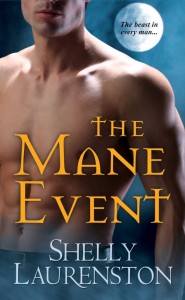 THE MANE EVENT

Available Now!

Unedited/Unproofed

Ronnie smiled at the man sitting in the enormous SUV at the curb, waiting for her aunt.

"My hot date." Annie Jo Lucas winked at Ronnie.

"Very cute."

The older woman grinned. "Polar bear. I love bears."

Ronnie laughed. She'd completely forgotten how entertaining her aunt could be. And her momma had been right. Family was family. Her aunt didn't blink an eye when Ronnie knocked on her door holding on to a man only wearing a hospital gown. Annie Jo let them in, got Shaw settled, and even handed Ronnie a Christmas present she would have mailed to her after the holidays, like she'd done for fifteen years. True, Annie still had nothing good to say about Ronnie's mother but that went both ways.

Her aunt even talked about canceling her date but Ronnie had no intention of getting between a wolf and a "proper layin'". That would be plain wrong.

"What about you and that cat?" One dark brown eyebrow peaked as her aunt smirked at her. "Hhhhmmh?"

"I'm just doing my Alpha a favor."

"Oh. Is that all?"

"What does that mean?"

"Well I just find it surprising you haven't called in the Pack yet. Let them take care of Mr. I'm Gorgeous."

"Why should I ruin their Christmas?" The way hers had been ruined.

"Because when you're Pack, you're never alone."

"I'll call them in the morning. I promise."

Annie headed toward the SUV, Ronnie trailing behind. "You know Ronnie, I really can stay. Help you with that boy. He is a big one."

"We'll be fine. Go! Have a great Christmas date. "

"You have my cell number if you need me." Annie opened the door and blew a kiss at her date.

"I won't need you. I can handle him."

"Really?" Annie didn't sound like she believed that for one second.

"Yes. He's one man. I can handle one man."

Annie's date leaned down to look at Ronnie through the open passenger door. "Is that your lion?"

Ronnie spun around and watched Brendon Shaw—all seven feet and five hundred pounds of him now that he'd shifted to lion—trot down the nice quiet streets of Long Island, New York.

"Oh, Lord!"

Laughing, her aunt waved at her. "Have fun, darlin'."

Ronnie didn't wait to see her aunt drive off with her date. Instead, she took off running after the big idiot.

Thankfully he wasn't really trying to get away. Instead he seemed to be just wandering…and romping.

She caught up to him nearly three blocks away, rolling around on some poor person's lawn.

"Shaw," she called out softly. He ignored her.

"Brendon!" she tried this time, whispering as loud as she dare, hearing music and the people inside the house laughing and having a wonderful holiday. "Come here!"

Shaw, on his back with big paws in the air, stared at her, his tongue hanging out. Lord, what was he doing?

"You heard me, mister. Come here!"

Scrambling to his feet, Shaw gave a low growl. If he started roaring, she was so screwed. But instead of roaring, he…he…

It was the calypso Christmas music coming from inside the house that set him off. Eyes wide, Ronnie watched the King of the Jungle shimmy his lion ass around on some poor human's lawn. They'd never understand those paw prints come morning.

Ronnie's head tilted to the side. Is he…? Yup. He was doing the mambo. Paws crossing over paws. Head bopping to the beat. Thick, regal mane waving in the cold December air. He actually wasn't too bad. For a big cat doing the mambo.

Rubbing her eyes, Ronnie realized she had to focus.

"Get over here!" she commanded again, still whispering.

Shaw looked up at her, then he lowered his head toward his front paws, his big lion butt in the air.

Oh, my Lord in heaven, he's in a play bow.

She hadn't done one of those since her first couple of years of being able to shift fully when she'd still been a pup. And she'd never heard of cats doing them ever.

Ronnie walked toward him and he literally jumped back away from her.

Keep away. The big idiot wanted to play keep away.

She didn't have time for this. She had to get his crazy cat ass back in the house before someone saw him.

"Brendon, please come on."

Another step toward him and another step back. Dammit!

He watched her, his gold eyes examining her from head to toe. Then his gaze locked on her tits…and stayed there.

Ronnie Lee rolled her eyes. No matter what breed they may be, all males were pigs.

However, she'd learned over the years that males could be controlled. With the right bait.

Looking around to make sure they were still undetected, Ronnie did what she'd promised she would never do again since that Motörhead concert when she was eighteen. She lifted her shirt and bra, flashing him.

Shaw charged her head on and Ronnie barely had time to pull her clothes back into place before she gave a surprised squeal and tore off back to her aunt's house. Lifting her legs, she cleared the eight-foot fence that cordoned off her aunt's yard from her neighbor's. Ronnie made it up the back porch stairs when she heard Shaw right on her ass. She got inside, throwing the door closed behind her, hoping to slow him down, but he rammed right into it knocking it off its hinges. She winced, realizing she'd have fix that before her aunt got home.

Ronnie squealed again as humongous paws slapped against her hips, forcing her to the living room floor. She scrambled onto her back, only to realize she had a naked man on top of her with his head under her T-shirt.

"God, your breasts are beautiful," he rasped. "Can I play with them for a little while?" He planted a small kiss against the side of her lace-covered nipple.

"No you can not. Now get off me!" She slapped at his head, trying to get him to let her go. The snoring, however, suggested he wasn't going anywhere until she moved him herself.

"Lord!" she snarled. "I am gonna kick Sissy's ass when I see her."

Panting, Ronnie scrambled out from under Shaw. She intended to think her breathing problem merely an outcome of the outrageous situation she currently found herself in and not because the cat had the softest lips known to man or God.

She stood up and cracked her neck to the side. Grabbing Shaw's hand, she dragged him across the floor and up the stairs back to the bedroom.

And the entire time she cursed Sissy Mae Smith's name.

*****

Okay. She had to stop feeling sorry for herself. True, this wasn't how she'd wanted to spend her Christmas—fixing doors and chasing after lions—but she was here and she just had to deal with it. Like her momma would so eloquently put it, "Oh, get the fuck over it, Rhonda Lee."

Sitting at her aunt's kitchen table with her head in her hands, Ronnie stared down at the rapidly chilling cup of hot chocolate she'd made herself. She hadn't even bothered to put in the marshmallows.

How, exactly, did she get herself into these kinds of situations? First off, she knew better than to trust Sissy Mae. Second…oh, hell. There was no second.

All of this, though was a perfect example of how she needed to change her life. School seemed like a good start. She already had interviews set up with a few of the local universities after the New Year holiday. Hopefully they'd ignore that freshmen year grade report from twelve years ago. It had not been a thing of beauty and her momma's reaction…well, She-wolf fights were never pretty. A day after the fight, Ronnie and Sissy Mae took off for Europe with their backpacks and five-hundred bucks between them. Ronnie had seen a lot of the world because of Sissy's constant drive to keep moving. England, France, Germany, Italy, etc. When they got done with the romance language countries, they moved onto Asia, Africa. Wherever. Wherever two She-wolves could get into trouble, they were there.

Then six months ago Ronnie Lee woke up with a German wolf whose first name she knew—and not much else. "How many times," she'd asked herself in the shower that morning, "how many times can you wake up like this?" That's when she decided she wouldn't anymore. She would no longer wake up with strangers. She'd no longer get into barroom brawls. She'd no longer randomly challenge other Packs for dominance. She'd no longer look for trouble.

Three weeks ago Ronnie Lee turned thirty and it looked like all was well on its way. For awhile she'd even had a steady boyfriend. But that only lasted a month. She'd brought the poor beta home and her daddy and brothers had kicked the living tar out of him. He hadn't actually done anything wrong either, her daddy simply didn't like him. Not surprisingly, that Beta wolf never returned her calls after that particular family dinner. So, she'd decided a few days later, she'd lay off men for awhile. She had toys and she was a woman not afraid to use her fingers. Really, what else did you need a male for accept to fuck and breed with? And she was holding off on the breeding until she got her act together.

Unfortunately, kissing Shaw was like slipping back into her old patterns. Even worse, the cat had a Pride she had to worry about. Cheetahs, leopards, even tigers were mostly loners. Yet Pride females were real protective about their breeding males.

Of course, how protective could they be when they hadn't even shown up at the hospital? Mace had told her Shaw must be on his way out if they didn't bother to check on him. Apparently he'd bred two healthy cubs with a couple of the Llewellyn females and that's pretty much all they wanted or needed from him.

"Nice," she muttered out loud, feeling bad for Shaw.

She spent a few moments wallowing in his misery—apparently her own wasn't enough—when she felt his extremely hot breath against her neck. Ronnie Lee sat up straight and slowly turned her head. He'd shifted back to lion. It amazed her how many times a body could shift while going through the fever. She'd lost count of how many Shaw had gone through. Shame there was no way to control it. Maybe then Ronnie wouldn't have one of the biggest cats in the world staring at her like a slab of prime rib.

That's what she got for sitting around her aunt's kitchen feeling sorry for herself. She never even heard the big bastard come into the suddenly very tiny room.

"Why are you out of bed? Are you trying to irritate me?"

He stared at her for several long seconds than his enormous tongue came out of his mouth and slashed her from chin to forehead.

"Oh! Dammit." She wiped at her face. Disgusted. "Don't do that."

Shaw took a step closer and nuzzled her under the chin, his massive gold-and-brown mane going right up her nose.

Trying to push him away but unable to see with all that damn cat fur in her face, "Bed! Go back to bed!"

"Come with me."

Startled, Ronnie Lee opened her eyes and found Shaw had shifted yet again. Now he kneeled naked and so damn gorgeous in front of her.

Ronnie never thought she'd go for these gold guys. They were perfectly tanned without all that messy skin cancer concern. Not an ounce of fat on that body. His face…perfect. Even with all the bruises and still healing lacerations, the man was so damn beautiful.

"Come to bed with me, sexy," he purred in her ear. "I promise…"

She waited for more. With none forthcoming, she had to ask, "You promise what?"

"Anything you want." His head dipped a bit and his beautiful gold eyes seared through her. "Absolutely anything."

Lord, help her.

Taking his hand, Ronnie stood up. "Come on," she coaxed. "Let's get to bed."

He purred and followed.