July 2016 Newsletter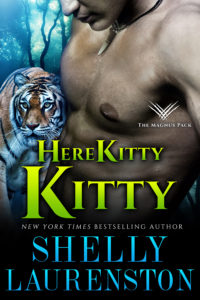 HERE KITTY KITTY
Available NOW on Kindle and audio!
Nikolai Vorislav rolling onto his back, let the morning sun warm his belly as he quietly waited in a soft patch of tall grass. Waited until his breakfast walked up to one of the many lakes he had on his property. And, as always, breakfast did come walking up. Slowly, Nik rolled back over onto his belly, watching to see if it saw him. It hadn't. Instead it drank from the lake, completely oblivious to his presence.

He waited a moment more. Then he silently charged. The deer made a run for it, but Nik had his paws on its hindquarters and under him before it got more than ten feet away. Nik gripped its neck and bit down until it stopped thrashing. With a happy sigh, he settled down to a nice hot meal.

When done, Nik went for a swim in his lake, letting the water go through his coat, washing all the blood away. He looked up at the sun. It was getting late. He needed to get on a conference call although he'd rather stay outside for the rest of the day playing. But his father would have his head.

As it was, Nik barely tolerated the old bastard these days. He loved his father, but he didn't understand him. And he really didn't want to. Still, he needed to leave his father be. The old man had begun to slowly transfer the business over to him and Nik's momma would have his hide if he started any crap now. So, resigning himself to a Sunday trapped on a trans-Atlantic call, he headed back to his house.

He padded quietly through his backyard, glancing at his pool. He fought his desire to dive in headfirst and stay there for the next four hours. Instead, he trotted over to the patio, stopping before he moved into his house. He sniffed the air and groaned. His brothers were around somewhere. Why? He'd left them in Texas with explicit instructions not to come back until they had a signed property deal from that old wolf Marrec so they could build some stupid amusement park his father had his heart set on. Nik should have known better. Trying to get a wolf to sell its territory was not easy, if not damn-near impossible. But this deal was Alek's baby. He'd brought the property to their daddy's attention. How he knew about wolf property, Nik could only guess.

Nik didn't want to walk through the back doors into his kitchen. He knew he'd probably find them there, eating his food and finishing off his sweet tea. No. Not a good idea to deal with those two without his morning coffee. It would be in everyone's best interest if he made them wait a bit. So Nik went around to the side of the house, took a step back, and leaped up to the second-floor balcony. Clearing the railing with ease, he silently landed on the marble floor. With a couple of nudges from his muzzle, he opened the glass door and stepped into the hallway.

He needed a shower and coffee before his call. Man, did he need coffee.

So focused, in fact, on getting his coffee, it took Nik a good thirty seconds to catch the strange scent in his house. He slowed down, but kept walking, trying to locate its owner. Maybe his sisters had brought over one of their friends. Whoever she was, he just had to meet her. Anybody smelling that damn good was a must-meet, if not a must-have-in-your-bed. And the scent was so familiar, it must have been someone he'd met. So intense he started purring. Wow, he hadn't done that in awhile. It felt good.

He walked past one of the unused guest rooms and stopped in his tracks, his tail twitching expectantly. He took several steps back and turned his head.

It was her. The tasty piece of ass from the airport.

His eyes roamed over her body. She sat up in the bed, the sheet tucked under her arms, and she had definitely been in a recent fight. Though she didn't look too much the worse for wear. A few bruises. A few scratches. A good size knot on the side of her forehead. Yet nothing life threatening. Still…why the hell was she in his house?

She stared at him, her breathing coming out in shallow pants, and Nik suddenly realized he was still tiger.

No wonder she looks scared to death.

Nik shifted, making sure not to move too quickly and frighten her even more.

Leaning against the door jam, Nik crossed his arms in front of his chest. "Well. Hello, sugar."

"Oh, shit…" she let out softly.

He grinned. So pretty. No. Pretty didn't do it for her. Beautiful. Gorgeous. Astounding. Even those words were weak.

"I…I…" She shook her head, then the panic kicked in.

She slid off the bed and stumbled to her feet. She still had the sheet around her body, but she tripped over it and started to drop to the floor.

Nik moved quickly, going across the room and grabbing her around the waist before she could hit the floor. She moaned in pain and he held her gently, slowly slipping to his knees, her naked back pushing against his naked front. She was so weak, she couldn't stand on her own.

"Breathe, sugar. Just breathe."

He had to fight hard to keep his self-control. Not easy with her naked flesh pressed against his. And before he took hold of her, he spotted the sexiest damn tattoo in the middle of her back. He didn't have a chance to get a good look at it, but knowing she had one set his teeth on edge.

"I'm going to be sick."

Uh-oh. Well, that killed the libido right quick.

"Come on, darlin'. Let's get you in the bathroom." Each bedroom in his house had its own bathroom and he had never been more grateful. He stood up, bringing the woman with him and swiftly took her inside. He held her with one arm while he lifted the toilet seat cover and the toilet seat. Kneeling down again, he brought her with him, making sure her head hovered over the toilet.

"It's going to be okay, sugar. Just relax."

Moaning, she gripped the sides of the toilet and leaned forward. He was about to reach around and pull her hair off her face, when her head swung back, slamming into his nose. His brothers had broken his nose years ago, but this bitch literally knocked it out of joint. He heard the bone pop.

"Goddammit!"

Releasing her, he fell back to the floor.

He looked up in time to see her smoothly get to her feet, the sheet sliding off that sweet, sweet body, leaving her naked and oh so beautiful. With a coldness he'd never seen on a human not born cat, she turned and yanked the top of the toilet tank off.

"Wait—" was the last thing he said before she brought the hard, heavy porcelain down on his head.