July 2017 Newsletter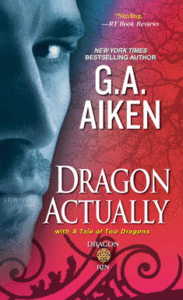 DRAGON ACTUALLY
"To Challenge a Dragon"
Available NOW!
UNEDITED/UNPROOFED EXCERPT:

Annwyl heard moaning.  Incessant, loud moaning.  It took her several long moments to realize that she was the one making the annoying sound.

She forced her eyes open and struggled to focus.  She knew that she laid in a proper bed, her naked body covered with animal furs.  She could hear the crackle of a pit fire nearby and feel its warmth.  Other than that, she had no idea where she was or how the gods she got here.  Last thing she remembered… she died.  But there was a little too much pain for her to be dead.

Her eyes focused and she realized she was in a room.  A room with stone walls.  She blinked again and attempted to still the rising panic.  These were no mere stone walls.  But cave walls.

"By the gods," she whispered as she reached out and touched her hand to the cold grey stone.

"Good.  You're awake."

Annwyl gulped and prayed the gods were just playing a cruel joke on her.  She raised herself on her elbows when that deep, dark voice spoke again, "Careful.  You don't want to tear open those stitches."

With utter and almost heart-stopping dread, Annwyl looked over her shoulder and then couldn't turn away.  There he was.  An enormous black dragon, his wings pressed tight against his body.  The light emanating from the pit fire causing his shiny black scales to glisten.  His huge horned head rested in the center of one of his claws.  He looked so casual.  If she didn't know better, she'd swear he smirked at her, his black eyes searing her from across the gulf between them.  A magnificent creature.  But a creature nonetheless.  A monster.

"Dragons can speak, then?"  Brilliant, Annwyl.  But she really didn't know what else to say.

"Aye."  Scales brushed against stone and she bit the inside of her mouth to stop herself from cringing.  "My name is Fearghus."

Annwyl frowned.  "Fearghus?"  She thought for a moment.  Then dread settled over her bones, dragging her down to the pits of despair.  "Fearghus… the Destroyer?"

"That's what they call me."

"But you haven't been seen in years.  I thought you were a myth."  Right now, she silently prayed he was a myth.

"Do I look like a myth?"

Annwyl stared at the enormous beast, marveling at the length and breadth of him.  Black scales covered the entire length of his body, two black horns atop his mighty head.  And a mane of silky black hair swept across his forehead, down his back, nearly touching the dirt floor.  She cleared her throat.  "No.  You look real enough to my eyes."

"Good."

"I've heard stories about you.  You smote whole villages."

"On occasion."

She turned away from that steady gaze as she wondered how the gods could be so cruel.  Instead of letting her die in battle as a true warrior, they instead let her end up as dinner for a beast.

"And you are Annwyl of Garbhán Isle.  Annwyl of the Dark Plains.  And, last I heard, Annwyl the Bloody."  Annwyl did cringe at that.  She hated that particular title.  "You take the heads of men and bathe in their blood."

"I do not!"  She looked back at the dragon.  "You take a man's head there's blood.  Spurting blood.  But I do not bathe in anything but water."

"If you say so."

His calmness made her feel overly defensive.  "And I'm not just taking men's heads.  Only the enemies of Dark Plains.  My brother's men."

"Ah, yes.  Lorcan.  The Butcher of Garbhán Isle.  Seems to me if you just took his head your war would be over."

Annwyl gritted her teeth.  And it wasn't from the pain of her wound.  "Do you think that I've not thought of that?  Do you think that if I could get close enough to the little toe-rag that I would not kill him if I had the chance?"  The dragon didn't answer and her rage snapped right into place.

"Well… do you?"

The dragon blinked at her sudden outburst.  "Do you always get this angry at the mention of your brother?"

"No!"  She barked.  Then, "Yes!"  Annwyl sighed.  "Sometimes."  The dragon chuckled and she fought the urge to start screaming.  And to keep screaming.  His laughter wasn't an unpleasant sound, but chatting up a dragon… well, perhaps she was finally going mad.

The dragon slowly moved from behind her and brought more of his enormous body into the room.  He settled to her right, but she could only see half of him without turning her head.  The rest remained outside the alcove.  She wondered what he looked like in his entirety.

"Why, exactly am I not…"

"Dead?"

She nodded.

"You would be, if I hadn't found you."

"And why did you save me?"

"I don't know.  You… fascinate me."

Annwyl frowned.  "What?"  Compared to a dragon, she was nothing.  Just human.

"Your bravery.  It fascinates me.  When you saw me you didn't try to run like those men.  You stood your ground."

"I was already dying, what was the point?"

"It doesn't matter.  The dragon-fear affects young and old.  The dying and the strong.  You should have run for your life or dropped to your knees begging for mercy."

"I drop to my knees for no man," she snapped before thinking.  He laughed outright.  A low, pleasant sound.  Like his speaking voice.  Shame it belonged to a monster.

"I'll keep that in mind."  He chuckled as he carefully turned his big body, his head coming frighteningly close to her, and walked out of the chamber.  She watched as his tail swung into the room, its sharp end grazing against the stone walls.  She tried not to panic when she realized that his tail alone stretched the length of the tallest man in her troops.  "I will send someone to help you up and get you fed."

"A man?"

"What?"  The dragon slammed his large head into the ceiling.

Annwyl lowered herself back on the bed.  That had just been a dream.  "Nothing.  I'm tired."

"Then you best get some sleep."

"Wait!"  He stopped and looked over his shoulder at her.  Annwyl took in a deep breath.  "Thank you.  For saving me."

"You're welcome, beautiful one."  He started walking again.  "But don't get too comfortable," he casually tossed over his shoulder.  "Who knows what I'll make you do to repay me my kindness."

Annwyl leaned back against the soft bed and felt a shudder run through her.  She just wished she could say that she shuddered from fear or at the very least revulsion.  What truly worried her was that it felt like neither.

***

Fearghus rubbed the fresh bump on his head.  He'd heard about Annwyl the Bloody's rage, but he had no idea how overwhelming it could be.  Her angry bellow damn near as powerful as a dragon's roar.

No wonder she hadn't defeated her brother yet.  He terrified her.  He could tell from her overzealous rage at the mere mention of the man.

If she faced Lorcan now, even if her body completely healed, he doubted she would defeat him.  Either her anger or her fear would get the best of her.

And for some inexplicable reason that thought worried the hell out of him.  When did he start caring about humans?  Unlike some of his kin, he didn't hate humans.  Yet he didn't live among them either.  So his original plans for the human girl were to simply heal her wounds then dump her near a human village.  He didn't like complications.  He didn't like anyone around him.  He liked peace.  He liked quiet.  And not much else.  But the mere thought of just leaving her somewhere sickened him.

He could already tell this was going to get complicated.  And he hated complicated.