July 2019 Newsletter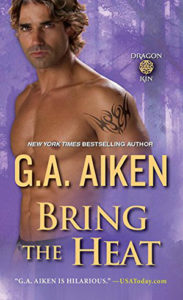 Bring The Heat

Available Now!

Unedited/Unproofed

Branwen pushed her claws through dirt and trees and rock until she finally felt the heat of the two suns against her scales.

Desperate to be free, she continued to fight her way out. Unwilling to give up. She was a Cadwaladr, she kept reminding herself. We never give up!

So she fought on until her forearms and head cleared the pile of rubble. She grabbed on to anything she could, her claws groping. She shook her head, trying to get the dirt out of her eyes.

She found something sturdy, using it to help her drag herself out.

Once she was free, Brannie dropped her head against her forearm and took in deep gulps of sweet air.

Not a lot frightened her. Not even death. But being buried alive? The torture of dark suffocation before death? That she was officially terrified of.

Something grabbed Brannie's forearm and she jerked back until she saw gold glinting in the light of the two suns.

"Aidan," she gasped, quickly realizing she'd forgotten all about him.

She gripped his claw with her own so that he knew he wasn't alone. That someone was here for him. Then she pulled the rest of her body out of the dirt. She didn't stop, though, to appreciate the fresh air this time. Instead, she began digging. Using her claws and the tip of her tail, going deep until she saw the top of Aidan's head.

She dug farther until she could grip his shoulders. She pulled him up, while Aidan did his best to get out on his own. Probably panicking as much as she had when she'd realized how easily she could die right there.

Aidan's claws reached up and gripped her upper arms, holding them tight as Brannie gritted her fangs and heaved.

She dragged him halfway out, until they both dropped to the ground, panting hard.

"Gods," he gasped. "Thank you."

"I couldn't leave you there."

He shook his head, dirt flying from his gold hair. Then he abruptly froze.

"Caswyn and Uther."

Together they scrambled over what was left of the mountain, digging through broken, ancient trees, boulders, anything that was in their way, desperately looking for signs of Aidan's two Mì-runach brothers.

Brannie had just thought she'd felt something on the tips of her claws when she heard the rustling of trees nearby.

She stood and turned, quickly realizing she no longer had any of her weapons.

A small troop of men came out of the woods. Scouts. Zealots.

"Aidan," she said softly.

He wanted to search for his friends, and had no time to negotiate with these men so willing to die for their one god. Some of them were maimed in the name of their god, missing one eye or both.

With a quick intake of breath, Aidan unleashed his flame. But when the fire had settled down, the men still stood. Alive and well and not turned to ash.

The one in front—he was only missing one eye—raised his hands into the air and looked up at the sky. "Thank you, mighty Chramnesind!"

He laughed hysterically. "You cannot harm us, dragons! Our god has given us His protection. Your fire means nothing to us!"

The land shook and trees swayed as a battered, limping Uther pushed his way into the clearing. He cradled a damaged forearm within his opposite claw and his poor leg dragged uselessly behind him. One side of his face and snout were bloody and his left eye was swollen shut. But he was alive.

"Another!" the Zealot cheered. "It does not matter! Even now our legion is near, marching toward this clearing. They will destroy all of you and your weak flame will not harm us! For we are the mighty, fighting for the one, true—"

The Zealot's rant ended when Aidan slammed his black claw down on the group of scouts. His flame might not be effective, but he was still a dragon.

The few who weren't instantly crushed by Aidan's claw tried to make a run for it, but Brannie swiped at them, sending them flying into nearby trees. Their backs and heads breaking against hard trunks.

"Humans," Aidan muttered in disgust while scraping the blood and gore from the bottom of his foot.

"They were right, though," Uther said. "There are at least two legions minutes away and they've got siege weapons."

Siege weapons that could take down dragons with ease.

"It looks like we'll die on the field of battle this day after all, my friends," Uther announced with great pride.

Brannie, in no mood for such ridiculous sentiment, glanced at Aidan so that he could clearly see her eyes before she focused on finding trapped Caswyn, still buried under the mountainous rubble.

*****

Understanding that look on Brannie's face, Aidan quickly picked up the remains of the fallen Zealots and tossed them in a direction away from the legions heading their way. Then he moved to deal with Uther, knowing Brannie would have no patience for Uther's need to "die with honor."

"No, Uther," Aidan said, keeping his voice stern. "We will not be dying this day."

"We have no choice." Uther pointed. "They're right there. Cutting through the treeline. They'll be here in—"

"Get it out of your head, idiot. We didn't survive all this so we could die five minutes later at the hands of Zealots. So get your shit together and shift to human!"

"But—"

"Now! Or I swear by all that's unholy—"

"Got him!" Brannie cheered, and Aidan rushed to her side.

He crouched and saw the top of Caswyn's head. They dug their claws deep into the dirt and, together, dragged his unconscious—but breathing!—friend from what had almost become his untimely crypt.

Once they had him free, they laid him out and Aidan lightly slapped both sides of his face, attempting to wake Caswyn.

"Hurry," Brannie urged as she shifted to human and helped a slow-moving Uther deep into the trees.

"I'm trying." He lightly slapped Caswyn's face again. When that didn't work, he punched him hard. Like he often did when his friend was drunk.

Caswyn's eyes opened slightly.

"Can you shift to human, brother?"

Unable to speak, Caswyn closed his eyes and, after a moment, weak flames surrounded him. It took longer than usual but with some effort, Caswyn managed to shift to his human form.

Staying dragon—and praying none of the Zealots caught sight of him as they crossed a nearby hill—Aidan carried his friend to the line of trees and, once there, shifted to human as well.

He hoisted Caswyn onto his shoulders and rushed into the forest after Brannie.

He found her and Uther sitting safely by an enormous boulder and placed Caswyn next to Uther.

"Keep him quiet," he told Uther, since Caswyn was known for the occasional night terror when he was passed-out drunk. No use believing it would be any different now simply because he was unconscious for other reasons besides drink.

Aidan crept up beside Branwen and crouched near her. Together they peeked around the boulder as the Zealot legions came into sight. They marched toward the clearing, not too far from where Aidan and Brannie were hidden.

As they marched, several of the soldiers, most of them completely blind, began singing songs in praise of their eyeless god. They all seemed happy, but Aidan didn't understand how anyone could be happy living like that.

Not being blind—as many of them were—because blindness could happen to anyone and several of the Mì-runach had gained their legendary status when they continued to fight for their queen without the gift of eyesight. They merely learned to rely on their other senses. It was, as one of Aidan's early trainers had told him, "only a tragedy if you make it one."

So, no. It wasn't the blindness. It was giving your soul over to a being who merely fed off hatred and bigotry. In Aidan's estimation, life was entirely too short to be that gods-damn miserable.

But the Zealots happily wallowed in their hatred, singing about the destruction of beings who'd had no say about being placed in this universe. The Abominations.

Rather an Abomination, Aidan thought, than a Zealot puppet for an undeserving god mired in shit, dirt, and rage.

As soon as the first regiment made it to the other side of the clearing, the soldiers began to set up camp.

"We need to get out of here," Branwen whispered. "I'll take Caswyn."

"He's still unconscious. I should take him."

"I need you to keep Uther quiet until we get far enough away. If I stay with Uther, I'll give him the death he's so eager for."

She was right, of course. An injured Mì-runach could be dangerous because they were more than willing to sacrifice themselves for others, which was all well and good, but they rarely did that sort of thing quietly. And stealth was the only advantage their small, weaponless group had at the moment.

Brannie went to Caswyn's side and, with amazing ease, lifted the dragon in human form onto her shoulders. Aidan knew from vast experience that even in his human form, Caswyn was no "easy carry," but Brannie made it appear effortless.

Maybe for her it was.

Aidan had seen the great General Ghleanna carry two dragons at a time off a battlefield and not even appear winded. Why should it be any different for the daughter of Ghleanna?

As soon as Aidan came to Uther's side, the dragon began to argue about how he needed no help. Aidan quickly slapped his hand over his friend's face. Uther's voice was known to carry when he was drunk or badly wounded.

"Do me a favor, old friend," Aidan whispered. "Keep your mouth shut."

Uther began to argue behind Aidan's hand.

"Unless you want Brannie the Awful to come back here and finish you off herself, you'll stop talking and do what I say."

The one eye not swollen shut widened. Getting put down like an old horse held no allure to Uther, so he put his arm around Aidan's shoulder and together they silently followed the others.