March 2016 Newsletter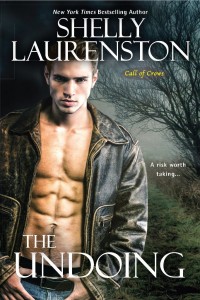 THE UNDOING
Available March 29, 2016!
From Brava
Unedited/Unproofed
The sliding glass door behind Jace opened and a shadow fell over her. She'd just bitten down on a piece of bacon, but the way the Ravens tensed, eyes glaring, bodies ready to fight, as they stared at something behind her, she nearly spit it out. The Ravens could be moody, just like the god they represented on earth, Odin. But this change was so fast, she immediately turned to see what was behind her.

Danski Eriksen stood there in all his chiseled perfection. He wasn't nearly as big as the Ravens sitting with her. He was leaner. But every muscle on him was cut. Light brown hair hung in his bright green eyes but the back was a little shorter, more . . . clean cut. The Protectors weren't as uptight as the Silent, a Clan that managed to look down on pretty much the entire human race while still talking about protecting it. But the Protectors didn't talk about protecting the human race—they just did. Every day, in big and small ways.

With his head tipped down to look at her, Ski was forced to push the wire-rimmed glasses he wore back just as he smiled a bit.

"Hello, Jacinda," he greeted. "I was told I'd find you back here."

Another Protector, Gundo—she didn't know him by any other name—stepped out on the back patio, but Jace had little interest in this one. He was cute but Danski Eriksen was really cute.

Like, keep-a-girl-up-at-night cute.

"So, what?" Stieg abruptly demanded of Erin. "You're just letting Protectors in without question now? Is that what you're doing?"

Erin started laughing. Hard. So hard, she laughed for a good long while before she gasped out, "I love how you think you have any say here! Like you're important!" She slapped her hand against the table several times, still laughing. "That's the best!"

Eriksen watched the pair, head tilted to the side a bit before he blinked behind his glasses and finally said to Jace. "I'd like to offer you a job."

He couldn't have shocked Jace more if he'd said, "I'd like to set you on fire for a ritual sacrifice."

But before Jace could reply, Siggy piped in with, "Don't take it, Jace. It's a trap. They're trying to trap you. Admit it, you're trying to trap her."

Eriksen stared at Siggy and asked, "How?"

"I don't know. You just . . . are. Admit it."

Gundo began to say something but Eriksen raised his hand to cut him off. "No, no. Let's follow the logic."

"What logic?"

Eriksen leaned down a bit so he could look Siggy in the eye. "Let's try and work this out, shall we? How could the two of us asking Ms. Berisha about a job in front of all of you be a trap? If she went missing, wouldn't you automatically know it was us?"

Siggy pointed a finger at both men. "It doesn't mean you wouldn't at least try."

Kera and Erin winced at that, both knowing the big guy was just really attempting to use what he considered a form of logic. And Jace simply appreciated he was so protective of her. It was sweet.

Gundo gazed at Siggy for a moment before noting, "It must annoy you. That tiny little brain of yours pinging around in that big, bulbous head. Like a Ping-Pong ball inside a bowling ball bag."

Siggy tried to flip the table over so he could go after the Protectors as dramatically as possible, but Vig and Stieg shoved him back down. They simply were not going to let that happen . . . not when they weren't done eating.

"Sit," Vig ordered.

"Yeah, but—"

"Sit."

Siggy dropped back into the seat and Eriksen refocused on Jace. "It's for some translation work. Russian to English." He gave her that gorgeous smile. "Would you like the job?"

Jace deliberately made eye contact with Eriksen. Always important when dealing with job offers or interviews of any kind. Then she replied, "No."

*****

Ski didn't know what kind of response he'd expected from the quiet but powerfully beautiful Jacinda Berisha, but "no" was not on the list. Had that idiot Raven worried her with all his talk of "traps"? It was true. Protectors were the onetime enemies of all Crows and Ravens, but that had been a very long time ago. Several centuries, in fact.

Then again, Crows and Ravens were known for never forgetting an enemy.

"Uh . . . we're not asking for you to do this for free," he stated, deciding to assume she was haggling for more money, like any self-respecting Crow would do. "We'll pay you well."

She nodded, smiling, and replied, "No."

"You'll be safe," Gundo promised, also assuming that idiot had ruined everything. "There's a very good treaty between our Clans since the eighteen hundreds."

"Oh, I'm not worried about that. I know I would be safe with all of you."

"Okay then. Great. So you'll think about it?"

"No." She stood, her head reaching Ski's cheek. She was all curves and simmering heat, and he'd really been hoping she'd take the job so he would have the opportunity to get to know her a little better. To find out if there was more behind that shy smile and those big blue eyes.

"I really wish you'd reconsider," he tried again. "You're kind of our only hope among the local Clans."

"Oh. I didn't realize that, but . . . no."

She eased past him as that idiot Siggy Kaspersen laughed.

Ski locked on Kaspersen, but Gundo was the one who rammed his foot into the man's chair, sending both flipping across the lawn.