March 2021 Newsletter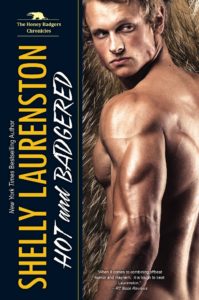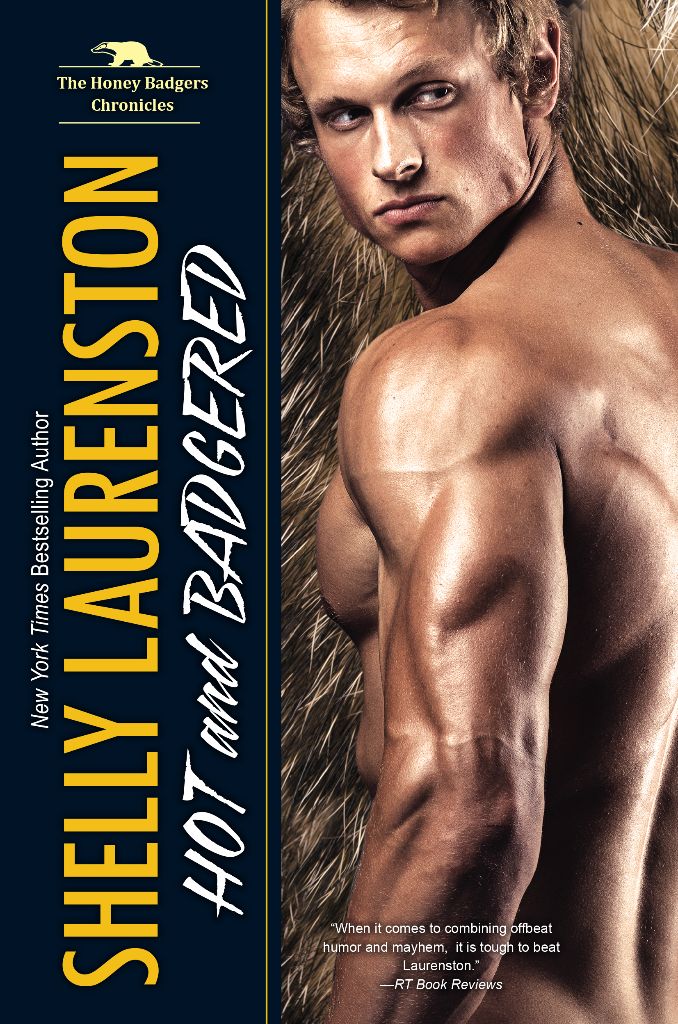 HOT AND BADGERED

Available Now!

Unedited/Unproofed

Charlie put her free hand to her forehead and closed her eyes tight. She should go to bed, but she knew as soon as her sisters saw her crawling up the stairs, they'd be all over her trying to help. But there was no help for migraines. There was medication, vomiting, and sleep. Oh, and carbs. She always needed carbs after she had one of her bad migraines.

She knew what had brought this on, too. Everything. Her life right now was stressful, but this had been the first time in days when she'd been able to relax. When she'd felt remotely safe. Despite the bears wandering around her house, eating her baked goods, and terrorizing her baby sister. And because she was able to relax . . . her adrenaline had gone down and whatever caused her migraines had gone up.

Now she was in complete misery with her migraine meds somewhere in goddamn Milan.

"Hi, Charlie."

Charlie opened her eyes and squinted up. She recognized that blur, but she put her glasses back on anyway.

She gazed up at Berg and asked, "If you're there . . . who is that?" She looked down at the bear she was still petting.

"That's Todd. He lives down the street with his parents."

"So he's a child."

"Pretty much."

Sighing, Charlie pulled her hand away.

"Go away," Berg ordered the kid, but apparently feeling a little sassy, the young bear rose to his hind legs and gave a short roar, which did not help Charlie's migraine.

Berg's chin dropped and his eyes narrowed. He glanced at Charlie. "Excuse me a minute, would you?"

She shrugged and watched Berg suddenly walk around to the other side of the house. Once he was gone, the kid dropped back to all fours and placed his big bear head on her leg.

"You must be kidding," she snarled at the little bastard.

But the kid wouldn't move and Charlie wasn't sure she was in the mood to get in a fight with a bear.

But then Berg returned. Only now he had shifted. And he was huge. So huge her mouth dropped open as she watched him stomp his way around her house. He, too, was puffing and growling a little, but he wasn't running. He didn't have to.

The kid stepped away from Charlie and went up on his hind legs again. But so did Berg and he was at least a foot or more taller.

Then Berg roared and Charlie winced, her brain making it very clear that it hated the sound by sending a searing pain to a spot right behind her eyes.

The kid took off running and Berg went after him. Neither made it far, though, because Berg swung out his front leg, slapping the kid against the side and sending him flying into the middle of the street, where he hit the ground hard, bounced up in the air, and landed on the other sidewalk.

Charlie had to admit, she found it kind of entertaining.

The kid, unharmed—although Charlie was guessing his ego was badly bruised—scrambled back to his feet and ran off, but Berg turned around and trotted back to Charlie's house.

He briefly stopped in front of her and rubbed his snout against her leg.

"Dude. You're drooling on my leg." She scrunched up her nose. "Ew."

Berg went back around the house and a few minutes later, returned. Human and fully dressed. He sat down next to her on the step.

He pointed to where the kid had been standing. "Black bear." He pointed at himself. "Grizzly or brown bear. Huge difference."

"I see that now." She laughed but immediately regretted it. Her head was screaming.

She put her fingertips to her forehead and began rubbing, shutting her eyes. "Owwww."

"Hey, what's wrong?"

"Migraine."

"You don't have anything for it?" He was silent for a moment, then asked, "Does Stevie have anything for it?"

"Stevie doesn't get migraines. She gets average headaches. Generic aspirin works for her. And I kind of hate her because of that."

"My sister has over the counter migraine meds. I can get you that. And some Coke."

Charlie stared at him and he was momentarily confused before he finally said, "Coca-Cola. Not cocaine. We don't do that because it would probably make our hearts explode. And it's illegal."

Charlie thought a moment. Shrugged. "Actually, anything that could possibly help this would be greatly appreciated."

Berg grinned. "I'll be right back."

She watched him jog off toward his house, and only one thought made it through the pain in her head . . .

"He's got a great ass."

*****

Berg returned to a wounded-looking Charlie, still sitting on her stoop. His sister had handed over an entire bottle of meds and a freezing cold bottle of Coke as well as her "recipe" for managing her own migraines.

"Okay," he said when he stood in front of her, "take four of these and then drink the Coke. The entire bottle."

Charlie opened her eyes and held her hand out. He put the pills in her palm and she popped all four into her mouth. He gave her the Coke and she drank half the bottle. Took a breath and drank down the rest.

"Now give it a few minutes."

He took the bottle from her and sat down beside her.

"You don't have to stay," she told him.

"I know." He put the bottle aside and rested his elbows on his knees. "But I'm gonna."

"Good," she sighed, resting her head on his shoulder. "I could use the company."

"I'm sorry about your head."

"I'm sorry I thought that little bear was you."

"You have so much to learn, my child," he teased, pleased to hear her chuckle. "Do your sisters know you've got a migraine?"

"No. And please don't tell them. They worry about me and when they're worried about me, they argue more."

Now Berg chuckled. "That's Dag and Britta. And me and Dag when we're worried about Britta. And Britta and me when we're worried about Dag. So I get it."

"You do get it, don't you? It makes talking to you easier."

"What do you mean?"

"I've been with a few people—friends, boyfriends—who don't quite understand why I drop everything to rush to Stevie's side. Or why I can't go on a last minute getaway because the money I have is set aside in case I have to bail Max out of jail or, if she's in prison, bribe gang members not to kill her. If you don't have the kind of relationship I have with my sisters, you don't understand. But you seem to get it."

"I was trapped in a very tight space with two other people for nine months. When that nightmare is over, you either love each other or hate each other. We're lucky. We actually get along. We protected a set of quadruplets once who were actively trying to kill each other. Now they all have restraining orders, which just seems sad."

"Very." Charlie looked up at him. "Do you three all own the house?"

"We do. Together we had enough for the down payment. Separately, we could only afford human-sized condos. We checked a few out. We couldn't clear the doorways, our beds and couches wouldn't fit. And the showers were absolutely impossible for any of us to fit in. This made more sense."

She smiled. "I think it's cool. The question for me is how long will Max and Stevie be able to stay in the same house without killing each other."

"As long as you're here, they should be fine."

"Oh, really?" she asked, her smile growing a bit.

"You may not realize it, but you have a lot of control on those two."

"I learned the hard way. Trial by fire."

Berg studied her face. Noticed the deep frown had eased. "Feel better?"

"Actually . . . I do. Thank you. And Britta."

"No problem. She loves helping migraine sufferers."

"We're a very loyal group. Our suffering is kind of unique. It bonds us."

She glanced back at her house. "I should get inside. Make sure Dutch hasn't filmed my sisters beating the shit out of each other and sold it online."

"Oh, is the weasel here?" Berg sneered, unable to help himself.

"Don't worry. Now that I'm feeling better, I'm throwing him out in ten minutes."

"Good. So . . . breakfast tomorrow?"

She smirked. "I thought I said no date?"

"Not a date. Breakfast. Meeting for breakfast. It's something you do with your mother. Or an old aunt."

Charlie laughed. "Sorry. I can't. Have plans tomorrow morning." She glanced at her phone. "Or today. I've lost track of time."

"Maybe lunch then. I'm free all day."

Charlie patted his shoulder " 'Night, Berg."

"Goodnight, Charlie."

She stood, then disappeared into her house. Berg grabbed the empty Coke bottle and walked back to his house. When he went inside, his sister and brother sat at their kitchen table.

"Did it work?" Britta asked.

"It did. Thank you." He dropped the Coke bottle into the recycle bin.

"You like her, don't you?" Britta asked.

Berg faced his siblings. "I really do."

"You do know her sisters are kind of nuts, right? She's great, but . . . she's not alone."

"You mean as opposed to me?"

"We may be with you until the end of time, brother, but we're normal," Britta argued.

Berg walked over to the kitchen table and reached into the wild beehive his siblings had placed on a piece of wax paper before tearing into it. He tore off a honey comb, ignoring the angry killer bees stinging his hand and put it into his mouth. It was still warm and delicious.

"You were saying?" Berg asked before he slapped at the bees now attacking his face.