November 2021 Newsletter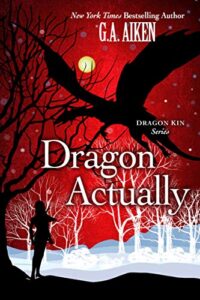 DRAGON ACTUALLY

Available Now!

Unedited/Unproofed

"Here."

Annwyl found the knight holding a sword out to her. "What's wrong with my blade?"

"Nothing. I want you to start using both."

Annwyl took the sword from his hand. It bore beautiful workmanship. A noble's blade. A little heavy for her, but a weight she would be able to get used to. And she bet it could cut through anything. She wondered where he got it from. What noble died at his hand? She shrugged. She never liked nobles much, so she really didn't care.

"How does it feel?"

"Good."

"Want some time to get used to it?"

She didn't answer. Instead she swung at his head with her new blade. He ducked and she blocked his retaliatory blow with her other sword. He smiled at her sudden attack and she felt pride. It took much to impress this man.

As the morning progressed into afternoon, the contact of their blades and the grunts of exertion the only sound in the glen.

*****

Morfyd pulled away from the flames and growled. No matter how hard she tried, she just couldn't see Lorcan. She couldn't see into his world. She recently heard that he had joined forces with a powerful wizard whose name no one ever seemed to remember.

Powerful indeed. There were very few humans who could block her. She'd have to warn Fearghus. Let him know that the girl may have more to worry about than that demon brother of hers.

Fearghus. What exactly was going on with him and that girl? Morfyd wasn't blind. She watched him watch her. Clearly he'd become enamored of the female. But she sensed something else going on. As Annwyl became stronger, Morfyd began to spend most of her time in the local village. A recent bout of fever required her skills. But she sensed that neither Annwyl nor Fearghus spent their days in the lair. And if they weren't in the lair, where the hell were they?

Morfyd knew that her curiosity would soon get the better of her. But something was going on, and she planned to find out exactly what.

*****

Annwyl watched the shadows move through the glen. She knew the hour grew late. And her body tensed in anticipation. She saw it now as a kind of a ritual. They would meet and train for hours. Break to eat in silence. Train for several more hours. And at the end of it, something would happen. Something that usually caused increased wetness between her thighs.

Their blades clashed one more time.

"Hold," he barked. She smiled. The stronger she grew, the more she seemed to be wearing him out. She had no doubt he could continue for a few more hours, but she liked that her skills had improved since they'd first started.

He sheathed his sword and turned from her. She crouched down and picked up her shirt, pulling the soft, plain cotton material over her head. She sheathed both her weapons and looked up to find boots standing in front of her. She fought to control her breathing as she slowly looked up at him.

He stared down at her, his face inscrutable and half covered by his black hair. He almost looked angry at her, his silence driving her to distraction. "Is there a problem," she snapped.

A low growl erupted from the back of his throat as he reached down and took hold of her shirt, pulling her to her feet. Then his mouth latched onto hers. Annwyl didn't fight him. She had no desire to. Instead she wrapped one arm around his neck, the other around his waist. He had her by the nape of her neck, his other hand slipping under her shirt. His rough fingers moved across the sweat-covered flesh of her back while his mouth claimed hers in a kiss that was so desperate, so passionate, that she thought for sure he would take her right at that moment.

Instead, he let her go as abruptly as he'd grabbed her. And she couldn't stop the whimper that escaped her throat when he broke off contact. He stared at her for a moment longer, than he stormed off. Just like that. Leaving nothing but the dull ache between her legs to keep her company.

*****

Morfyd placed food in front of Annwyl and watched the girl ignore it. In fact, she hadn't spoken since her return. Morfyd glanced over the girl's body. She wore only her bindings and leggings, and for the first time Morfyd noticed the bruises, bloody nicks, and deep cuts that covered Annwyl's body.

"Annwyl." The girl's green eyes flickered toward Morfyd. "Where did those bruises come from?"

"My training." She made the statement as if Morfyd were supposed to know what the hell she spoke of.

"Your training?"

"Aye. With the knight."

Morfyd's eyes narrowed, "What knight?"

"The one who was here when I was healing. The dragon's friend."

Morfyd couldn't hide her surprise as she took a sudden step back. Her brother with a knight friend? Not in this lifetime. Or any lifetime for that matter. And suddenly his recent desire to traipse into the village as human made sense.

"Ah, yes. His knight friend. And he's done this to you?"

"You could say that."

Morfyd nodded. She needed to find out what was going on. Now. The curiosity was killing her!

"Is the dragon here?" Annwyl asked hopefully.

"As a matter of fact, no. He's not." The girl went back to staring at the wall. "Eat, Annwyl. I need you to keep your strength up. Understand?"

The girl nodded but made no move to eat and continued to stare at her fascinating wall.

*****

He looped around the glen, moving past a large boulder, heading for the back way into his den. He'd gone into town, running all the way, to order a few things and hopefully work the girl out of his system. It didn't work. If he stumbled across her now, he'd have a hard time not to taking her up against a tree. So, again, it looked as if his cold lake would be his only respite.

But as he came around the boulder he stopped. Morfyd stood waiting for him. Her eyes narrowed in anger, her arms crossed in front of her chest, one foot tapping sharply against the grass.

She glared at her brother for several moments. "I'm telling," she barked. Then she was off.

"Morfyd!" He charged after her, snatching her around the waist before she could get away from him. She slapped at his hands. But when that didn't work she slammed her elbow into his face. He released her and she spun around to face him.

The two siblings stared at each other. "Keep your mouth shut, sister."

Morfyd hissed just before she latched onto a handful of Fearghus' hair and pulled.

"You little…" He winced in pain and wrapped his arm under his sister's leg, tossing her on her back. She didn't let her grip on his hair go though, and instead reached up and punched him in the head. "Ow!" He slapped her hands away. Could this be more ridiculous? They were dragons. The mightiest killers in the known world. What the hell were they doing?

"Hold it! Just hold it!"

Morfyd stopped. "How could you lie to her like that?"

"I'm not lying."

"Did you go up to her and say 'It's me. Fearghus.' "

"Well, not exactly…"

"Liar!" She dragged herself off the ground by using her brother's hair to pull herself to her feet.

"Stop yelling!"

She finally released her hold on Fearghus' hair. "What are you up to brother?"

"Getting her ready."

She raised an eyebrow. "For what exactly?"

Dirty little… "That's not what I meant. Soon she will face her brother, and I'm making sure she's ready to do that. I won't watch her die."

"That's admirable, brother. But I still don't know why you haven't told her the truth. Told her who you are."

"Our power to shift is one of our most sacred secrets. Do you think I'm going to reveal it to some little girl?" He motioned to his sister's scarred face, "You even kept our secret while they cut your face." For a moment, even Fearghus believed that excuse. Morfyd however…

"Ha! That's a weak excuse, brother. If they'd known what I was they would have killed me or at least tried to. And I'd rather not be like old Terlack with only one wing. And I'm sure she wouldn't harm a hair on that big, thick head of yours. So why don't you just admit the truth?"

"And what truth is that?"

"That you're afraid. Afraid that once she knows who and what you are that you don't stand a chance with her."

"What are you talking about?"

"I've seen how you look at her, brother. I'm not blind."

"No, but you are insane. I have no interest in some human girl." If he wasn't careful, his lies would choke him. He wanted that girl more than life itself. He'd tried to walk away earlier, but he couldn't. He just had to taste her again. And it took all his strength to stop himself from going further. From ripping off her clothes and burying himself inside of her until morning.

"You're afraid that if she finds out her knight is really you… really a dragon, she won't give you another look." His sister stood in front of him now. Her blue eyes boring into his head. "You desire her, brother. And you don't want anything to jeopardize that."

Fearghus looked down at his sister. "Are you done?"

"Aye."

"Then hear me well, sister. I don't have to explain myself to you." He leaned into her. "You just keep your mouth shut. I'll tell her when I'm ready."

"Fine. But you best hope it's not too late, brother." She punched him in the chest—hard—and walked away from him.

Fearghus sighed, he had too many damn females in his life.