May 2023 Newsletter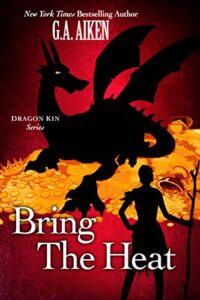 BRING THE HEAT

Available Now!

Unedited/Unproofed

It took four hours, but they eventually reached Keita's "friends'" castle. Human royals who said they were loyal to Queen Annwyl.

Brannie didn't know them but that was a good thing. Annwyl talked often of those she hated and the names became memorable.

The name was Breeton-Holmes and the family had a small castle well inside the Southland-Outerplains border. They weren't a powerful family, but they were well situated, and had access to a lot of gossip, making them important to not only Keita but Dagmar Reinholdt, the Northland woman who ran Queen Annwyl's lands in her absence and had bravely taken on Gwenvael the Handsome as her mate.

As soon as they were in range of the Breeton-Holmeses' castle, Keita went into full royal mode, her back straightening, her expression unbelievably haughty.

It made Brannie want to hit her, but she wouldn't.

Unless, of course, she had to.

The gates were immediately opened for them and the few guards that were around didn't even question them. Aidan had just helped Keita to dismount when Lord Breeton-Holmes appeared.

That's when the real performance began.

As soon as she saw her fellow royal, Keita burst into hysterical tears, throwing herself into the man's arms as his wife and adult children instantly surrounded her.

Brannie didn't even realize she'd started to roll her eyes until Aidan bumped into her, pushing her forward. That's when she remembered that a good royal guard doesn't roll his eyes at the idiot royals he was sworn to protect.

Everyone saw Brannie move forward, and the new royals were watching her closely, so she patted Keita's shoulder and mumbled, "Now, now, my lady, we're safe now."

She heard Aidan snort behind her—which he quickly turned into a cough—and even she had to admit, she sounded less than concerned over the royal in her care.

It didn't matter, though. Keita had an audience, and Brannie and her cohorts were soon forgotten.

Sobbing hysterically, Keita was helped toward the castle doors. Brannie followed but Keita abruptly stopped—walking and crying—and looked at her cousin over her shoulder.

"You'll stay in the stables. A healer will be sent for your men."

"The stables?" Brannie demanded.

Aidan's hand landed on her shoulder. "Of course, my lady. Please let us know if you need anything else."

"But—"

"Come on, Sarge. The lads need us."

Sarge? Had he called her "sarge"?

Turning to remind Aidan of her hard-earned rank, she saw his eyes widen in warning.

With human royal guards, no rank higher than a sergeant would lead a royal protection detail. A captain would never leave the castle unless it was the captain to a queen.

Realizing Caswyn and Uther needed her more than Keita ever would, she grabbed the reins of two horses—one carrying Caswyn—and made her way to the stables. Aidan right behind her with Uther and his horse.

As they walked, Brannie quickly understood that these royals weren't like the very wealthy ones that used to come see Annwyl. Of course, most of those royals never got past Dagmar Reinholdt. She spoke for the queen as her battle mage and vassal. Many thought Annwyl was harder to talk to, but they were wrong. Dagmar was tougher than many dragons Branwen knew. She was plotting and devious and dangerous despite her lack of battle skill and magicks.

Brannie adored her.

But clearly not all royals were rolling in gold. The Beeton-Holmes castle was on the small side. The castle grounds damn near tiny, with just a few guards protecting them. But despite the sparseness of everything else, the stables were glorious and the few horses they had were shiny and beautiful. Like they were groomed every day, which seemed strange.

"Show horses," Aidan remarked once they were inside.

"Show them to who?"

"Before the war, there were show events where royals from around the land would bring their prized horses to be judged for strength, beauty, and breeding. And you don't keep amazing show horses in shitty stables, even if it means you live in a tiny castle with few servants."

"Shouldn't they have more horses? These stables are huge."

"Perhaps they gave the horses to the army for battle."

Brannie walked past the few animals in residence. "But…they're not big enough to be used in battle. Look at this one. Her legs are so…thin."

"Elegant."

"What?"

"Her legs are elegant, not thin."

"Elegant…and breakable. I wouldn't even eat her. Like gnawing on a chicken bone."

Aidan, chuckling, led their two riderless horses to their own stalls before he came back for his friends.

Taking a quick look around, Aidan pointed at a roomy stall by the doors. "Let's put them here."

"No," an old woman said, coming into the stable. She carried a weighted down bag and had on a grey wool shawl. She was the healer.

"Put them in the back stalls, past the double doors," she ordered. "That's where I treat injured men and it'll allow them to get some quiet. She glanced over Uther and Caswyn, who was being held up by Brannie and Aidan. "They'll need the sleep."

"We need them ready to go by tomorrow," Brannie told her.

"Maybe this one," she gestured at Uther. "He probably just needs a splint." She leaned in closer, trying to look into Caswyn's face; his head was down, his eyes closed. He was, thankfully, still breathing, but that was it. "This one…this one will need more."

She touched Caswyn's face to lift his chin, but quickly pulled her hand back, her eyes widening and locking on Brannie and Aidan.

This woman wasn't just a healer…she was a witch. Her power had told her what they were as soon as she'd touched Caswyn.

When she took a step back, Brannie lifted her hands, palms out, and said softly, "We're not here to hurt anyone. We just need a safe place to stay so we can heal."

The witch continued to gaze at them, eyes narrowed in obvious distrust. But then Caswyn could no longer hold himself up, and Aidan nearly went down with him.

"To the back," the witch ordered. "Quickly."

*****

Brannie helped him carry Caswyn to the back and, together, they carefully laid him out in a stall on top of a nice pile of straw.

"You over there," the witch said to Uther. He went and sat down in his own stall and the witch kneeled beside Caswyn.

"He's lost blood."

Aidan crouched across from her. "What do you need from us?"

"Fresh water, clean cloth, and privacy. Having you two hovering over me makes me uncomfortable."

Aidan could understand that. Especially the way Brannie was glowering.

"Understood." He nodded at her. "Name's Aidan. This is Branwen."

"I'm Esmerelda."

"Can we call you Ezzie?" Brannie asked.

"No."

"We'll get the water and cloth for you," Aidan said quickly, rising.

He walked out, pushing Brannie in front, closing the double doors behind them.

"Why are you acting like I did something wrong?" Brannie asked.

"You were glaring at her."

"I glare at everyone."

"No, you don't. But when you're worried…" He smiled. "I'll be right back."

Aidan tracked down a helpful servant and asked for what he needed. While he waited, he peeked inside the castle to make sure Keita was doing all right. She was talking to the family, regaling them with stories of the supposed "attack" they'd suffered. There were tears, dramatic re-enactments. It was quite…entertaining.

Aidan returned to the stables with the servant and all that Esmerelda needed. Once the supplies were delivered, he and the servant went to Brannie. The servant proceeded to lay out food for them. Bread and cheese, meat and ale.

As soon as they were alone, Aidan dropped onto the straw. "I'm exhausted," he complained.

"Going down with a mountain takes a lot out of a dragon." Brannie sat down across from him and grabbed a loaf of bread.

"That didn't happen today, did it?"

"It does feel like it happened days ago, but no. The quake happened just this morning." She tore off a piece of the loaf and handed him the other half. "You think Iz and Éibhear are all right?"

"You mother would have told you if they weren't."

"Maybe. Unless she was worried I would have fought even harder to go back." She sighed, took another bite of her bread. "Too late now, though, huh?"

"Too late."

"Do you think Ren is dead?"

"I hope not. The Eastlanders are not exactly a forgiving people. If he died on Rhiannon's territory…"

"Yes. I know. My mother made that clear."

She was quiet after that and they ate mostly in silence. Although not an uncomfortable one. They were both exhausted.

When they'd just finished their food, Esmerelda appeared at the stall opening.

"They'll sleep. Both of them. The one with the arm—"

"Uther."

"Yeah. His arm and leg are already starting to heal. His leg wasn't even that bad. But he should protect that arm for the next day or two, depending on how fast you…people heal."

"And Caswyn?"

"I stopped the bleeding and gave him something to get his strength back. And a few spells to speed up the healing." She shrugged narrow shoulders. "I've done me best."

"Thank you," Aidan told her, meaning every word. "They're both like brothers to me. Your helping them means much."

"Keep your word to me and no need for thanks."

"As promised. We don't intend to hurt anyone. Just need a safe place to stay tonight."

She glanced around. "This is as safe as any. If there are any problems with your friends, the servants know where to find me."

With a nod, she left and Aidan looked at Brannie. "Why didn't you say anything?"

"I was trying not to glare. That requires concentration."

"You had to concentrate on not glaring?"

"Because I didn't know I was glaring! So I kept thinking, 'Am I glaring now? What about now? I feel like I'm glaring now.' It was endless."

Aidan shook his head. "Do you realize that you make things—outside of battle, I mean—very complicated?"

"No, I don't."

"You do. Constantly. If a sword is in your hand and someone is screaming bloody murder as they charge you…you are direct and ready. But you and Izzy trying to figure out what to eat for dinner…I think we're still waiting for you to make up your mind."

"Oh, it's not that bad."

"If that's what you need to believe," Aidan said.